ABOUT US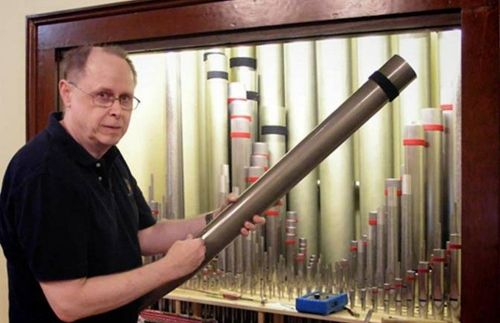 From 1970-1983, David Engen worked for the Hendrickson Organ Company in St. Peter, MN, working every aspect of organ building, including special emphasis on tuning and voicing. He incorporated in 1983, concentrating on organ maintenance and tuning in the Twin Cities area. Clients range from St. James and Mankato in the west to Eau Claire and Chippewa Falls, WI in the east. With degrees in Church Music and Organ Pedagogy from St. Olaf College and University of Iowa, he spent over 30 years as a church organist and choir director and has concentrated on the pipe organ from the perspective of the church musician. All designs are informed by this experience, as well as an organ study tour in Europe with Dr. Paul Bunjes in the mid-1970's.
Following a different trajectory, David Grandall entered the pipe organ maintenance field in the Rochester area following completion of Bachelor's and Master's degrees in engineering at the University of Minnesota. He brings a large client base from Rochester and southeastern Minnesota and Iowa. During his time working for the Noack Organ Company, he helped build and install the great organ at the Cathedral in LaCrosse. His primary expertise is in the physical design and complex engineering inherent in every pipe organ, as well as tuning and maintenance.
Grandall and Engen LLC was formed late in 2013 through the merger of David Engen and Associates with David Grandall Organwerks. We bring together a number of technicians from both companies, with shop space in Minneapolis and a technical team in Rochester. David Engen acts as President and Chief Financial Officer while David Grandall acts as Vice President and Chief Operating Officer, although such roles in a small company are necessarily fluid. David Engen is largely responsible for tonal design and voicing while David Grandall deals with all physical design and engineering.
The Company follows a philosophy of doing pro-active organ maintenance seeking to find and correct small problems before they become large and expensive. We ascribe to the Mike Holmes philosophy (HGTV) to "Make It Right". We have consulted on the design of new organs at St. Paul's Episcopal and the Cathedral Church of St. Mark, both in Minneapolis; Shepherd of the Hills Lutheran in Shoreview; Augustana Lutheran in St. Paul; and Westminster Presbyterian in Minneapolis. All have been cover features in "The American Organist" magazine. The company has also built a small organ for the chapel at Becketwood, a senior residence in Minneapolis (home to Paul Manz before his death), restoration of a Schaefer organ in Cashton, WI, as well as completing many enhancement and enlargement projects. By intent most projects are kept fairly small.